Date Posted:
Thursday, October 15, 2015
Posted by:
Tanya Zanfa (Master Admin)
Source:
http://www.gvnews.com/get_out/a-park-of-their-own-relaxing-backya...
A PARK OF THEIR OWN: Relaxing backyard views in Mesquite Heights
A PARK OF THEIR OWN: Relaxing backyard views in Mesquite Heights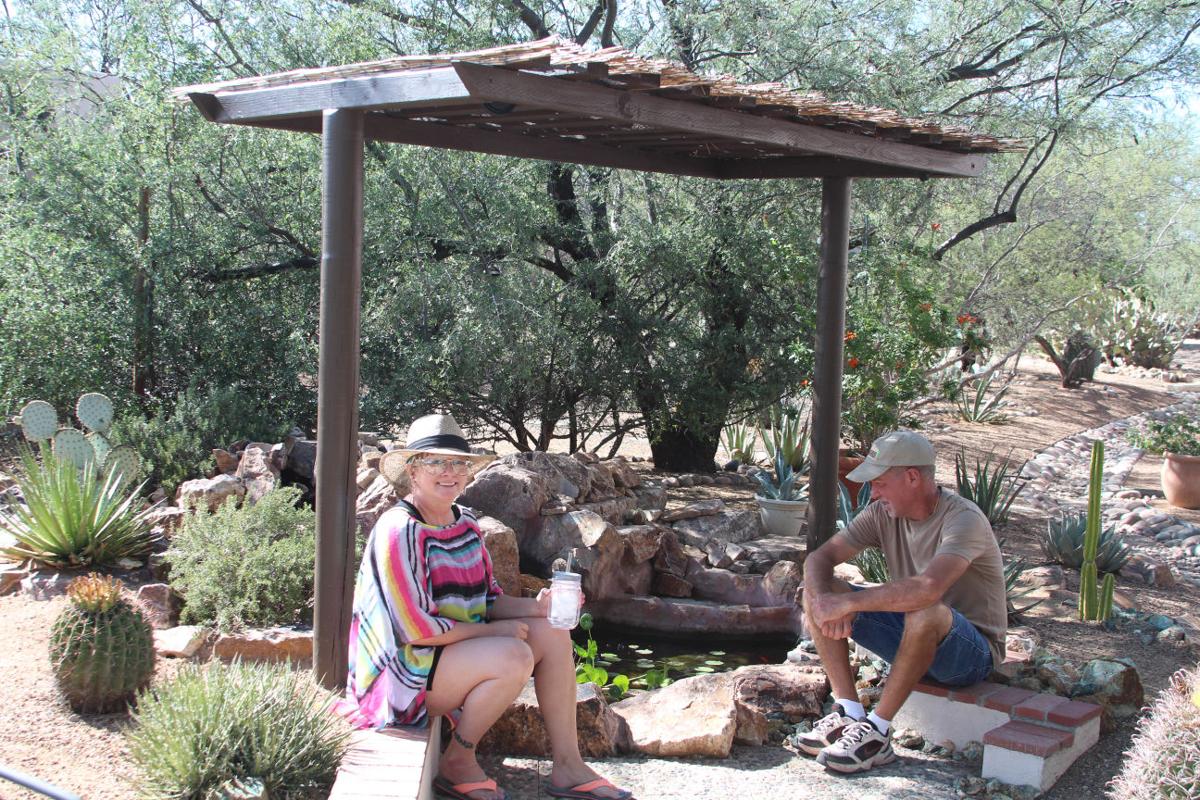 A small grassy area in a quiet corner of a backyard in Sahuarita makes the perfect home for Gertie, a desert tortoise that Rondi and Todd Kutz have adopted.
The tortoise enclosure is just one of more than a half-dozen eye-catching features the couple have added to their lush backyard in the Mesquite Heights neighborhood east of La Cañada Drive.
The yard, with a mix of desert trees, shrubs and cactus varieties, was one of the draws when the pair in 2003 bought the 1,800-square-foot, single-story home and moved from northwest Tucson to be closer to Rondi's parents in Green Valley.
Their lot covers nearly an acre, room enough for Todd — a professional landscaper — to extend the covered patio, build an outdoor kitchen, and add a ramada-covered pond, a hot tub, a stand-alone grill, enclosed vegetable garden and more.
Combine all that with landscaping improvements and some new plantings, and the Kutzes have created their own desert park — providing a relaxing view and inviting retreat for them, their family members and friends.
"I don't watch TV after I get home from work," Todd, 55, notes. "I come out here to be outside."
His wife, 52, agrees. "It's a quiet neighborhood. We got lucky. We're in the right spot," she says.
Relaxing sanctuary
Their three-bedroom, three-bath home, built by Dorn Homes in 1997, was a rental property for several years before the Kutzes bought it. So one of the first things that needed tending were some of the overgrown or ailing cactus and trees in the backyard.
Todd kept as much of the original landscaping in place as possible, which today provides plenty of welcome, leafy-green shade in the big yard. The mix today includes palo verde and mesquite trees, Texas ranger bushes, ornamental grasses, plus agave, yucca, and prickly pear and cholla cactus. Among the potted plants are bougainvillea, honeysuckle and a pineapple plant.
"Our goal was to attract birds and wildlife," Rondi says, and she and Todd have succeeded in creating an oasis for animals ranging from rabbits, javelina and their tortoise to orioles, hummingbirds, cardinals, quail, doves and owls.
What started as somewhat of an empty palette in the Kutz backyard has evolved over time.
The covered patio, with concrete flooring sporting a flagstone look, has been extended, allowing for a spacious and comfortable seating area with a small chimenea that adds ambiance on cool evenings.
On the east side of the patio, Todd transformed a formerly plain wall into an ideal outdoor kitchen with a built-in gas grill, sink and refrigerator, as well as a tile countertop and saguaro-ribbed cabinet trim.
To the south and west, the couple opened up their porch and added a wooden ramada, a framed shed with a pergola and — Todd's favorite feature — a stand-alone, wood-fired grill that he uses every weekend.
"He cooks the best tri-tip and ribs," his wife points out.
Soothing Pond
Rondi's favorite addition in the backyard is the stone pond with dual water streams that's also shaded by a wooden ramada. With the relaxing sound of running water, fish swimming in the pond, and an abundance of birds, it's like they have their own park in their backyard, she says.
Steps away from the patio and tortoise enclosure is a hot tub for six that the couple added about 10 years ago, along with an adjacent seating area facing the Santa Rita Mountains. Other improvements include a river rock-lined furrow Todd built to channel rain water across the spacious yard and away from the house.
Tucked farther back in the yard is a wood-framed, wire-enclosed chicken pen plus a wooden, wire-framed garden enclosure topped with shade cloth, soon to be planted with cool-weather vegies including cauliflower and broccoli.
Overall, the backyard is totally different now, Rondi says, calling the transformation "pretty amazing."
"It's like a little sanctuary," she says. "Our family and friends love it."
Karen Walenga | 547-9739
GET SOCIAL WITH US!
Follow OLP on our Social Media platforms to stay abreast of the latest happenings.
Follow Us on Facebook »
Follow Us on Twitter »
Circle Us on Google Plus »
Visit our Blog Feed »
See Us on Pinterest »
STAY CONNECTED!
Get the Latest News and Events from OLP delivered directly to your email inbox via our OLP eNewsletter.
We promise you'll love our content!