Topic:

Outdoor Accessories
Date Posted:
Wednesday, April 01, 2015
Posted by:
Tanya Zanfa (Master Admin)
Source:
http://www.popsugar.com/home/Easy-Ways-Update-Your-Outdoor-Space-...
15 Easy Ways to Get Your Patio Ready For Spring
15 Easy Ways to Get Your Patio Ready For Spring
Is your outdoor living space in need of a makeover? Do you look at your patio and cringe every time you dream of inviting your friends over for a backyard barbecue?
Whether you live in the city and have a small outdoor living space, or you live in the countryside and have a wide open meadow to work with, there are simple solutions for turning that drab outdoor area into a fabulous spot for your family and friends to enjoy. With these 15 simple ways to dress up your outdoor living space, you'll be able to call your girls over for cocktails on the deck by next weekend!
Source: Lowe's
1. Lighting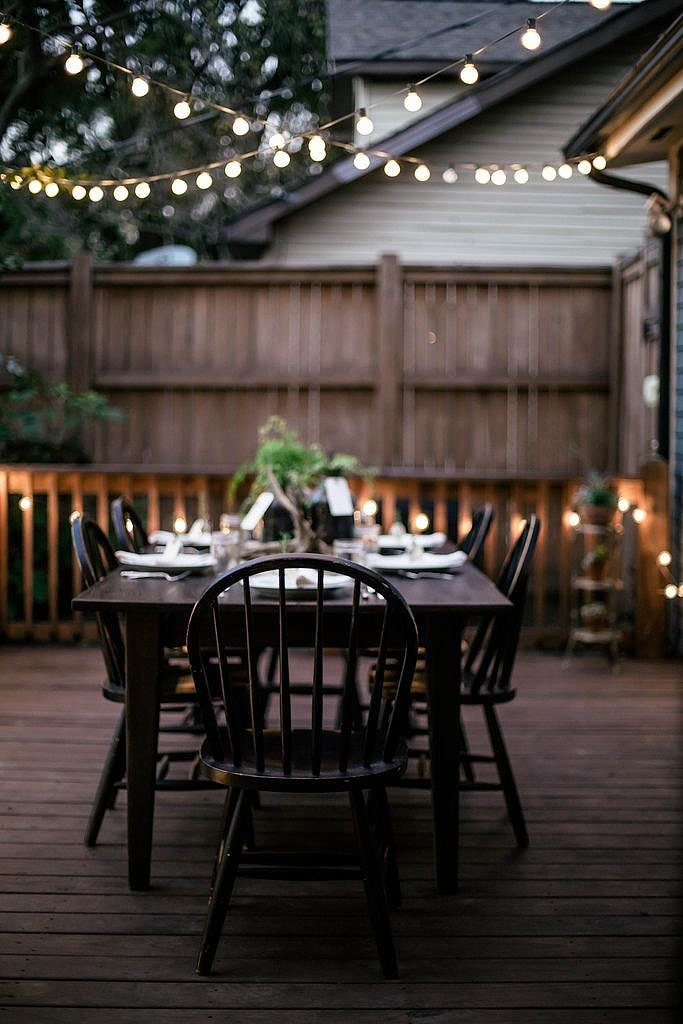 The easiest way to dress up your outdoor living space and still make a big impact is with lighting. There are many options to choose from depending on your space and your style. String lights work really well for small patios, but look great in any outdoor space.
Source: Local Milk
2. Seating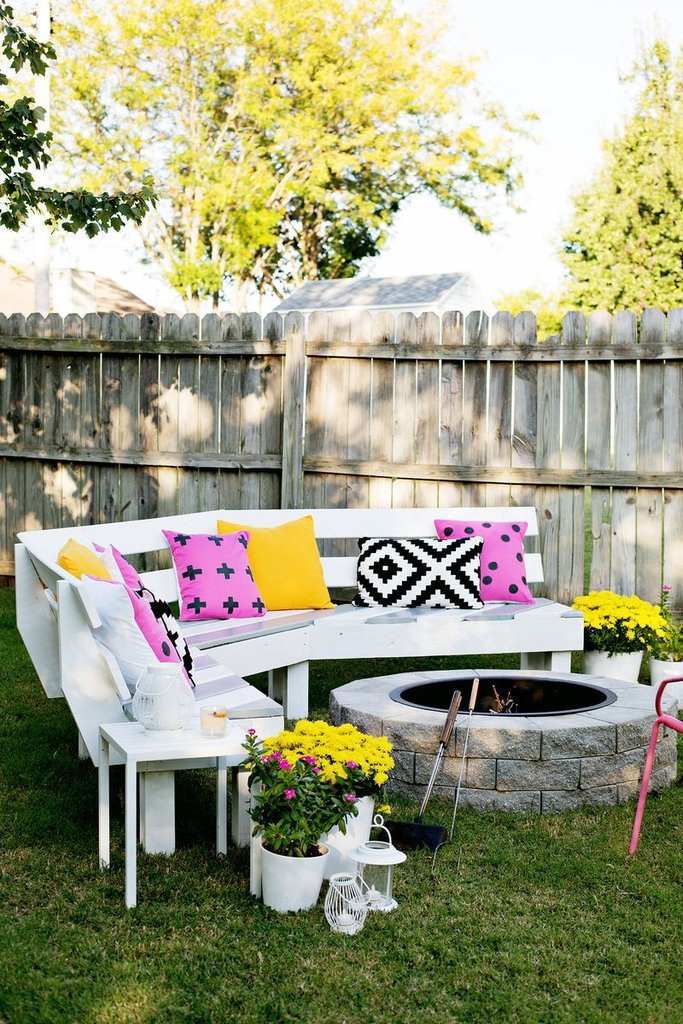 The right seating for your outdoor living space can make all the difference. Big spaces can handle the bulk look of a farmhouse table, a custom built bench or an outdoor sectional. In smaller spaces, try brightly colored wicker chairs, or a small bench with bright throw pillows to help make the space feel more open.
Source: A Beautiful Mess
3. Pergola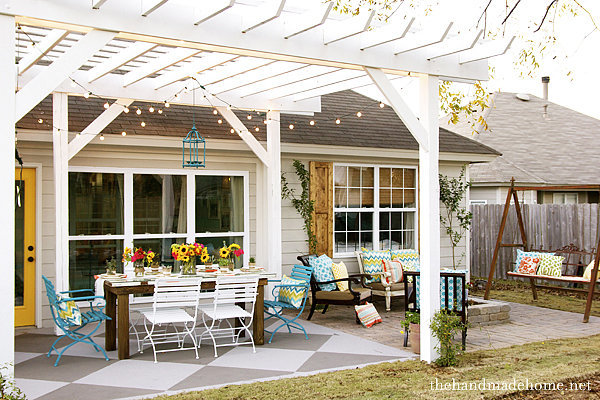 Adding a pergola to your outdoor living space can help define your patio and "hangout zone" from the rest of your backyard. It can lend your space more privacy, shade, and shelter.
Source: The Handmade Home
4. Curtains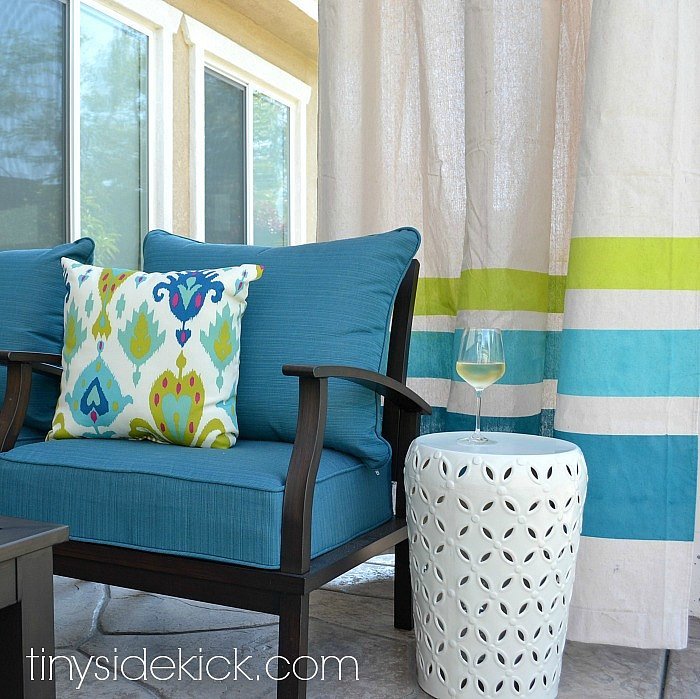 Speaking of more privacy and shade, adding curtains to your outdoor living space can do more than just dress it up. No need to invite the neighbors to every cookout. Just draw the curtains, and they'll get the hint!
Source: Tiny Sidekick
5. Bar/Kitchen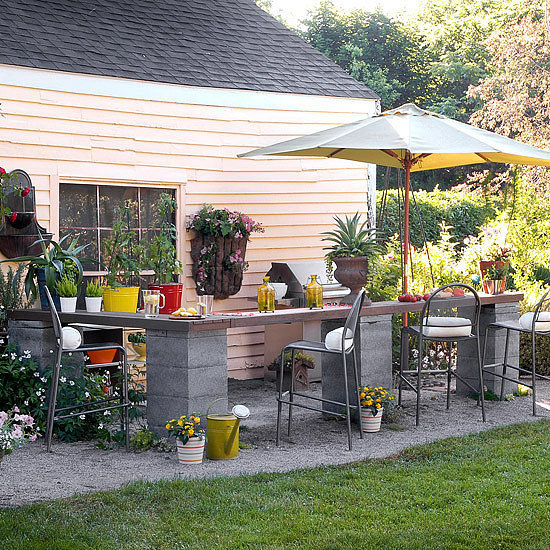 Turn your patio into the ultimate hot spot with a customized bar that is stocked with all the necessary items to make every weekend the perfect summer party. Plus, outdoor bars and kitchens can make hosting duties so much easier!
Source: Better Homes and Gardens
6. Beverage Area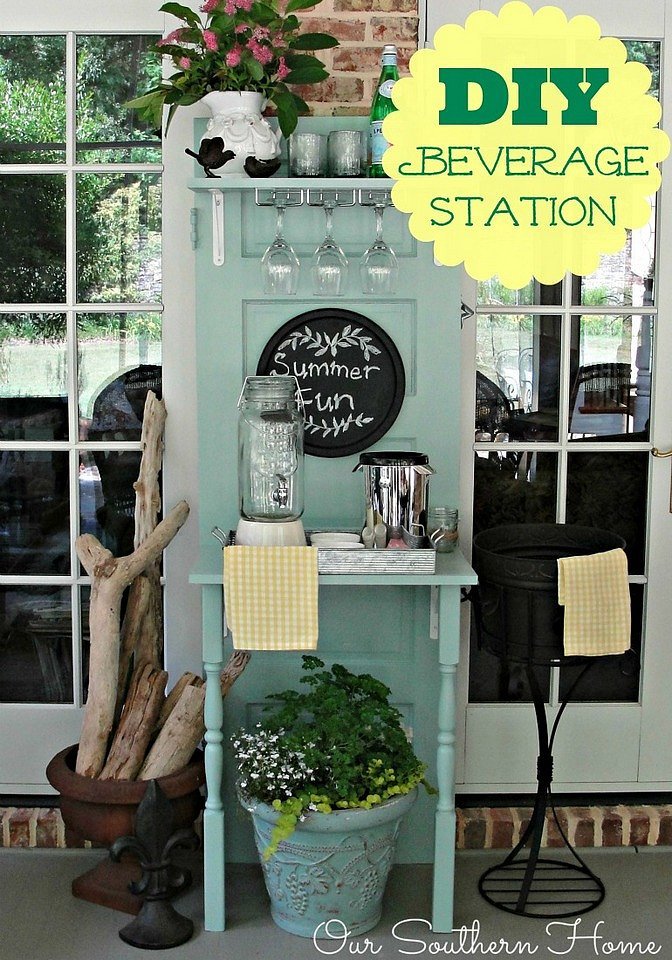 If you'd love an outdoor kitchen but don't have the space, get the best of both worlds with a cute beverage station. Make over an old bar cart, repurpose an unused dresser, or use a few old crates or pallets. The possibilities are endless!
Source: Our Southern Home
7. Area Rug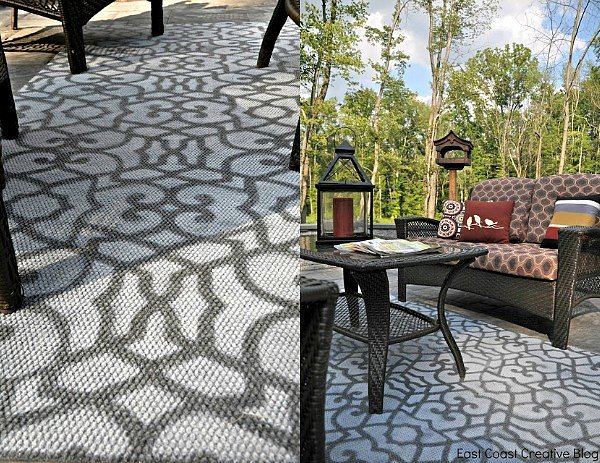 If your budget won't allow you to buy much more than seating and a table for your patio, you can still dress up your outdoor living space with an area rug. To help stretch your budget even further, purchase an inexpensive rug and transform it with a stencil.
Source: East Coast Creative
8. Stenciled Deck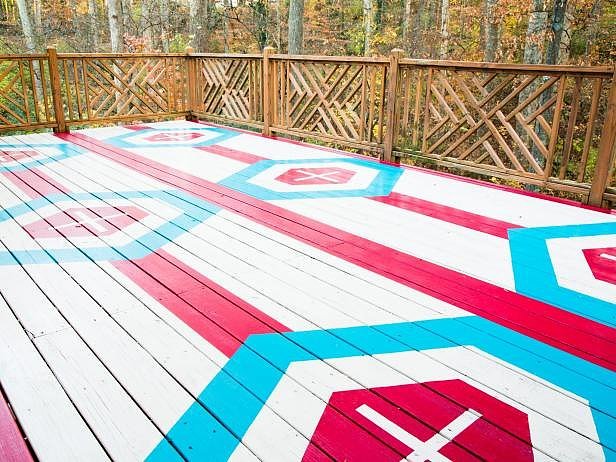 An area rug isn't the only way to dress up your patio floor. For a fun, textured look, stencil a design directly on your deck planks or concrete patio.
Source: HGTV
9. Pretty Storage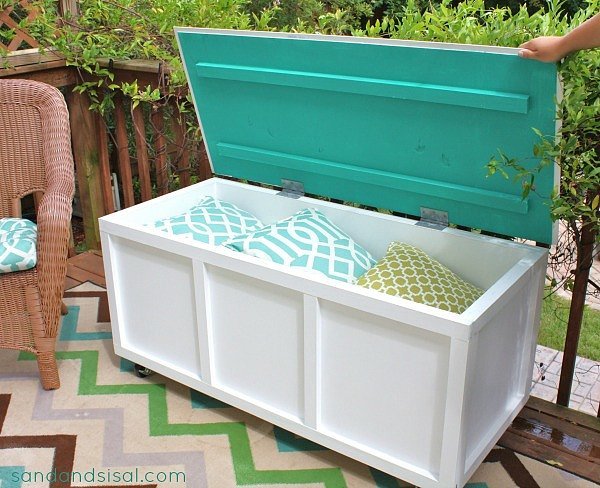 Outdoor storage doesn't have to be boring. Dress it up and make it multifunctional with a storage box that can function as extra seating for your guests, or as a table for your food and drinks.
Source: Sand and Sisal
10. Mosaic Patterns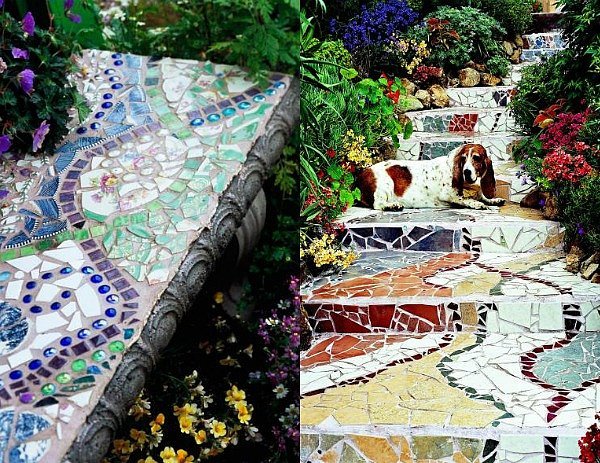 Do you have a hidden artistic flair that hasn't yet had the chance to shine in your outdoor space? Use a mosaic tile pattern and some recycled glass pieces to turn simple backyard objects into works of art.
Source: Midwest Living
11. Unique Planters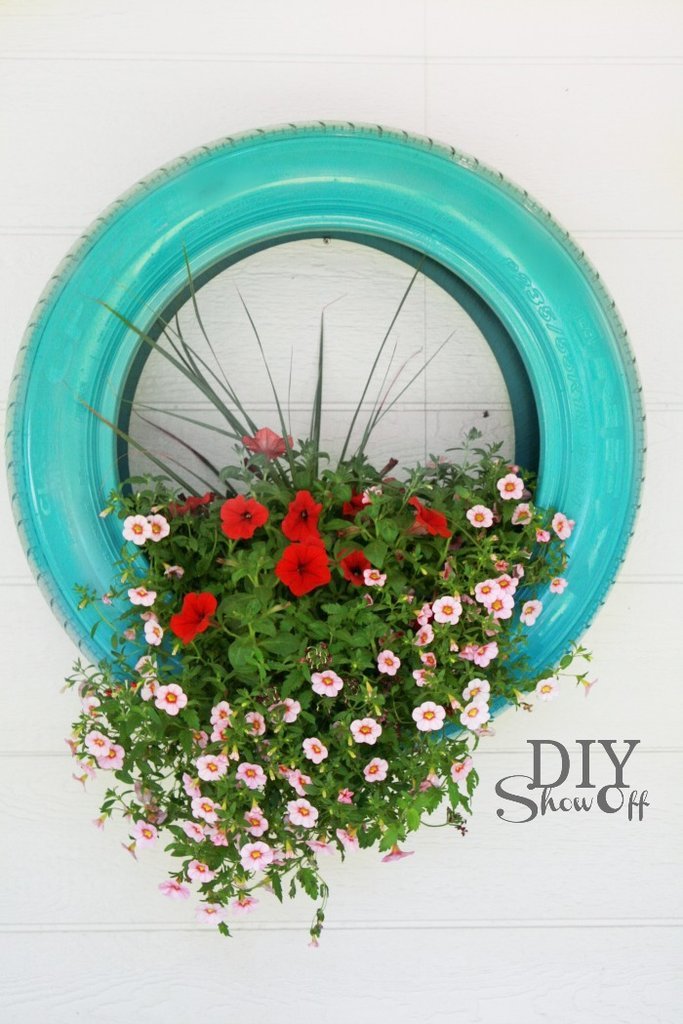 Don't settle for just any planter for your beautiful hanging plants. Grab a can of spray paint in your favorite accent color and repurpose unique items like an old tire, a broken wheelbarrow, or bird bath for a fun and rustic look.
Source: DIY Show Off
12. Decorative Planters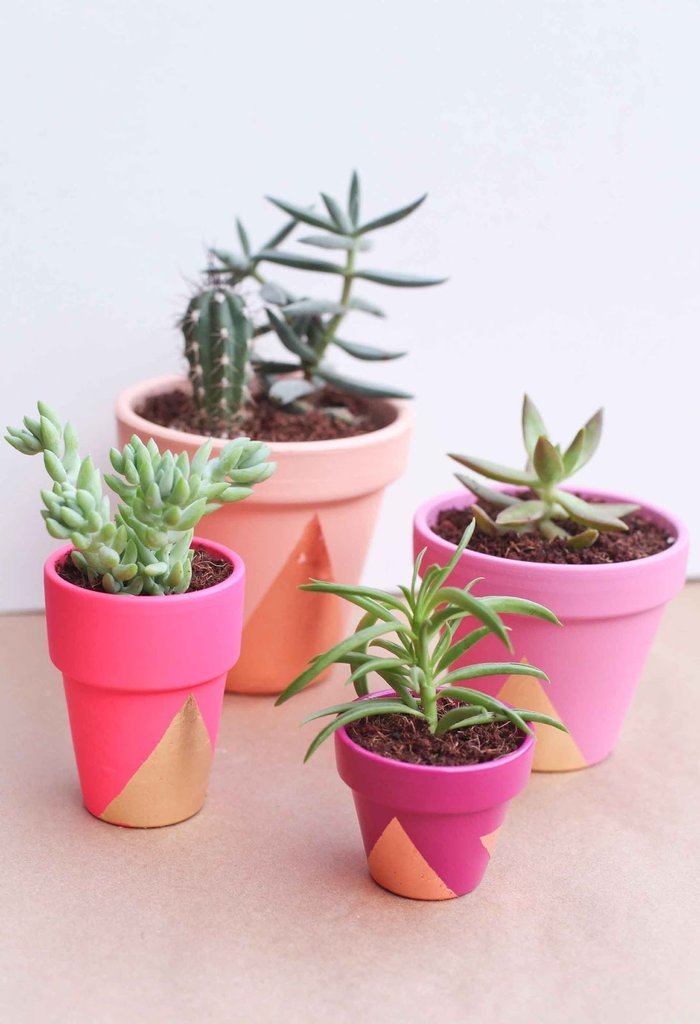 No old tires lying around? No problem! You can still make a statement with your backyard planters. If you already have tons of plain or mismatched pots in your outdoor space, transform their look with fun pops of color. These DIYs will even work on those plastic pots that come with the plants!
Source: Miss Renaissance
13. Shutters and Flower Boxes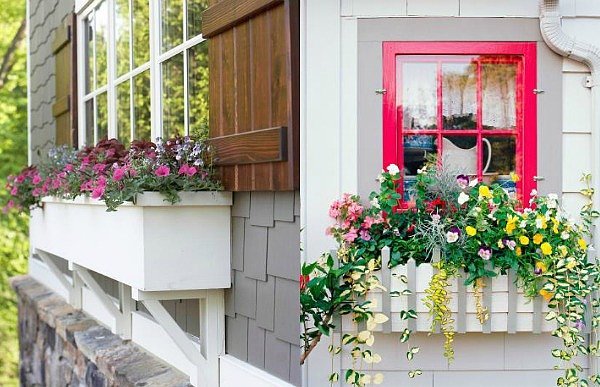 Enhance the look of your house by adding shutters and flower boxes. These pops of color will not only help dress up your outdoor living space, but will also give your home great curb appeal.
Source: Midwest Living
14. Garden Fountain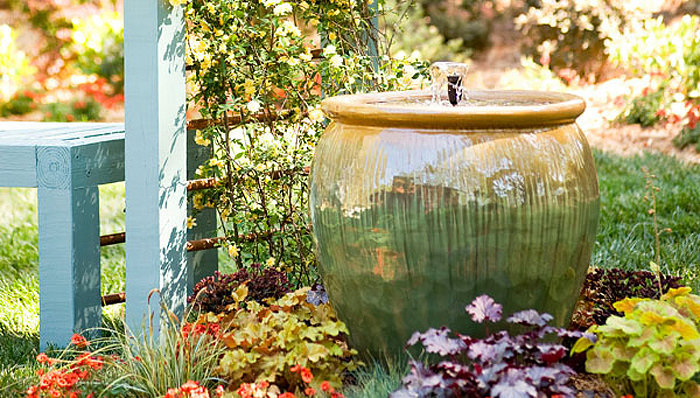 A water feature looks great in both large and small outdoor living spaces. Make a DIYproject out of it, and create a garden fountain out of a gorgeous container and some commonplace irrigation tools.
Source: Lowe's
15. Fire Pit Cover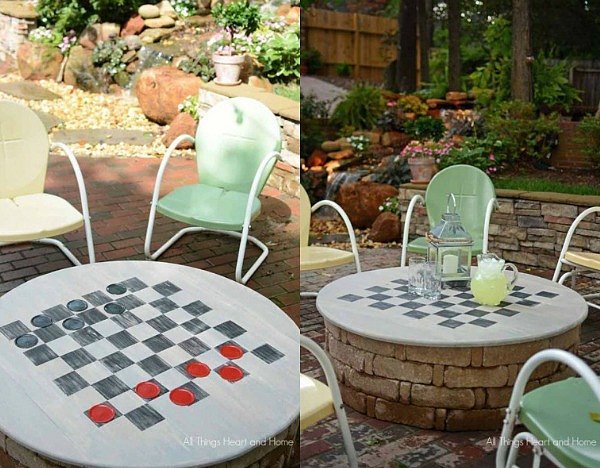 Fire pits are a nice addition to any outdoor space. Make your fire pit do double-duty by creating this game board fire pit tabletop for daylight gatherings.
GET SOCIAL WITH US!
Follow OLP on our Social Media platforms to stay abreast of the latest happenings.
Follow Us on Facebook »
Follow Us on Twitter »
Circle Us on Google Plus »
Visit our Blog Feed »
See Us on Pinterest »
STAY CONNECTED!
Get the Latest News and Events from OLP delivered directly to your email inbox via our OLP eNewsletter.
We promise you'll love our content!