Topic:

Outdoor Fireplaces
Date Posted:
Monday, November 23, 2015
Posted by:
Tanya Zanfa (Master Admin)
Source:
http://lancasteronline.com/features/home_garden/fire-pits-are-a-h...
Fire pits are a hot backyard feature
Fire pits are a hot backyard feature
KIMBERLY MARSELAS
The five cottages and cabins Wanda and Tom Berman rent to tourists all have their unique charms, but there's one amenity they've made standard: an outdoor fire pit.
Encased in brick pavers or sitting in a metal bowl, a crackling fire adds ambiance and just the right amount of warmth.
At the Bermans' riverside cabin near the Susquehanna, guests can pull up an Adirondack chair to the fire ring, take in the stars above, and listen to the burble of the water, even as the days get shorter and cooler.
"It's great, especially in the shoulder seasons," says Wanda Berman, who's also owner of Adamstown's Amethyst Inn. "The guests really love doing the s'mores and the whole nine yards."
With the explosion of outdoor rooms, more homeowners are looking to capture the nostalgic and practical effects a fire can lend year round.
Outdoor furniture makers and paving companies continue to capitalize on the trend, adding new options in materials and fuels. There's something for everyone, whether it's a fire table, an artistic take on a chiminea, or a built-in fire pit.
"What's right for you depends on how you see yourself using it," says John McGrann, president of Penn Stone in Lancaster. "For a lot of people, part of the appeal of a fire feature is that they want to host their friends. That's the whole idea."
Before you start
When adding a fire pit, homeowners should consider how much space they'll need — McGrann says a 12-by-12-foot square allows for a 4-foot ring and chairs all around — and whether they want to bring the flame up to table height.
From there, let fuel choices and personal taste guide the selection. Just don't forget safety. The International Fire Code, the standard in Lancaster city, requires users to follow manufacturer's directions for any kind of pit, keeping it 15 feet away from structures (including sheds) and combustible materials (including fences and porches).
Dry leaves and tall grass also can be combustible, notes Lt. Ken Wright, a city fire marshal. Never leave a backyard fire unattended, and be prepared to put it out with a hose, a bucket filled with dirt or sand or a commercially available extinguisher. The hose option may be trickier once freezing temperatures hit; if you've turned off the water valve to prevent pipes from freezing, remember to pop it open before lighting a flame.

Fire tables
Traditionally built at knee height to be enjoyed while seated, fire tables are trending taller. McGrann calls this look from O.W. Lee "bar or chat height;" the patio furniture maker takes the look upscale with porcelain and slate finishes on the table surface. Coordinating bar stools serve as seating, or friends can stand to warm their hands over the flame. The closed bottom hides a propane tank or a natural gas connection.
Price: Smaller tables start at several hundred dollars. Designer furniture pieces with matching chairs climb into the thousands.
Fire pits
Basic steel fire pits with screen tops to contain large embers start around $100 at national chains. For a longer-lasting version, look for heavier, more durable metals that will stand up to frequent flames. McGrann is a fan of Lancaster-made Breeo inserts, designed to reduce smoke. "A lot of customers, they would prefer to burn a wood fire, but they don't like going into the house smelling they've been at a campout," he says. Breeo's technology includes a ring of holes that let superheated air reburn instead of escaping as smoke. The company makes footed, stand-alone versions and inserts for built-in masonry stone pits.
Price: $100 and up.
Artistic takes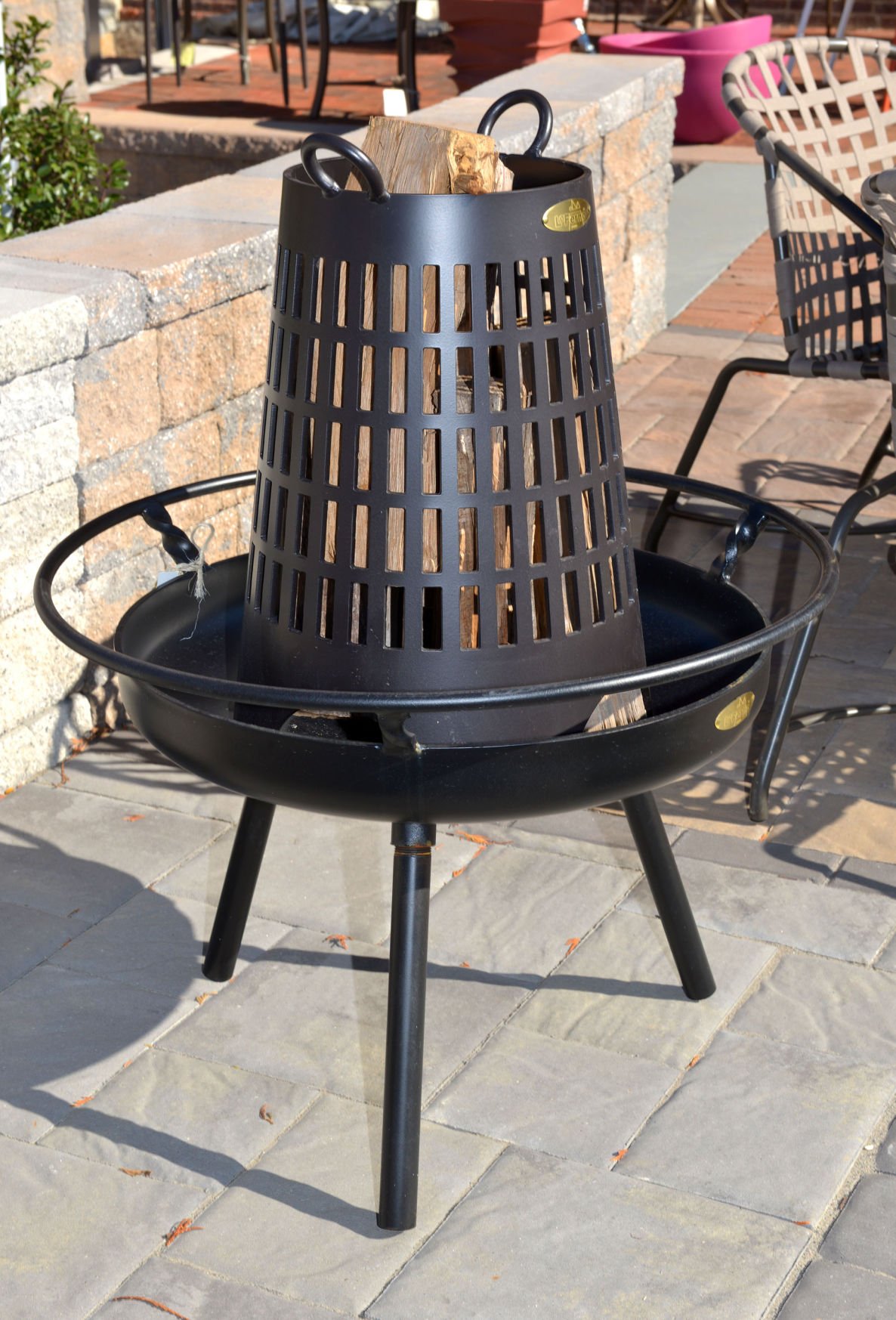 Designers are working to improve finishes, trading dirty rust for carefully weathered patinas. The Lo Ferno, shown at right, comes painted black. The first flames eat away at the superficial finish, leaving a unique, rustic look behind. The design also brings flames higher than a typical pit and simplifies fire-building with its teepeelike basket. Modfire incorporates midcentury modern sensibilities into pits and bowls with silhouettes that look more like sculptures. Fire Pit Art includes ceremonial fire bowls that reflect shapes found in nature (think stingrays, antlers and seashells).
Price: Typically starting around $1,000.
Built-ins and custom masonry
For those who want to go bigger, there are custom square pits and outdoor fireplaces. Penn Stone can work with customers who want something bigger than the standard 36- to 48-inch built-ins. Retaining wall blocks or natural stone masonry are options, as are building techniques and specialty components that keep the flame closer to visitors. A masonry fireplace outside Penn Stone's retail entrance features a shallow firebox and a curved "Rumford" throat that directs smoke up while keeping heat down.
Price: Basic built-in rings start around $1,000 for retaining wall kits, including a drop-in pit; $1,200 for natural stone; and custom masonry goes as high as size, materials and labor can take you.
New fuels
Wood and propane fire pits have long been the standard. Bioethanol fuel pots allow for a clean-burning, though admittedly cooler, flame. Some fire pits will hold both wood and a bowl for liquid fuel (see Modfire), while others are designed specifically for liquid. Brown Jordan's fire bowl includes a "pit" from which flames rise through artificial coals. The bowl itself is made of colored, glass-fiber-reinforced concrete.
Price: Four gallons of EcoSmart Fire e-NRG Bio-Ethanol Fuel run about $100. The burn time depends on the the kind of fire feature you're using. Other brands also are widely available online.
GET SOCIAL WITH US!
Follow OLP on our Social Media platforms to stay abreast of the latest happenings.
Follow Us on Facebook »
Follow Us on Twitter »
Circle Us on Google Plus »
Visit our Blog Feed »
See Us on Pinterest »
STAY CONNECTED!
Get the Latest News and Events from OLP delivered directly to your email inbox via our OLP eNewsletter.
We promise you'll love our content!